July 6, 2017
Posted by:

CRM Consultants

Category:

Events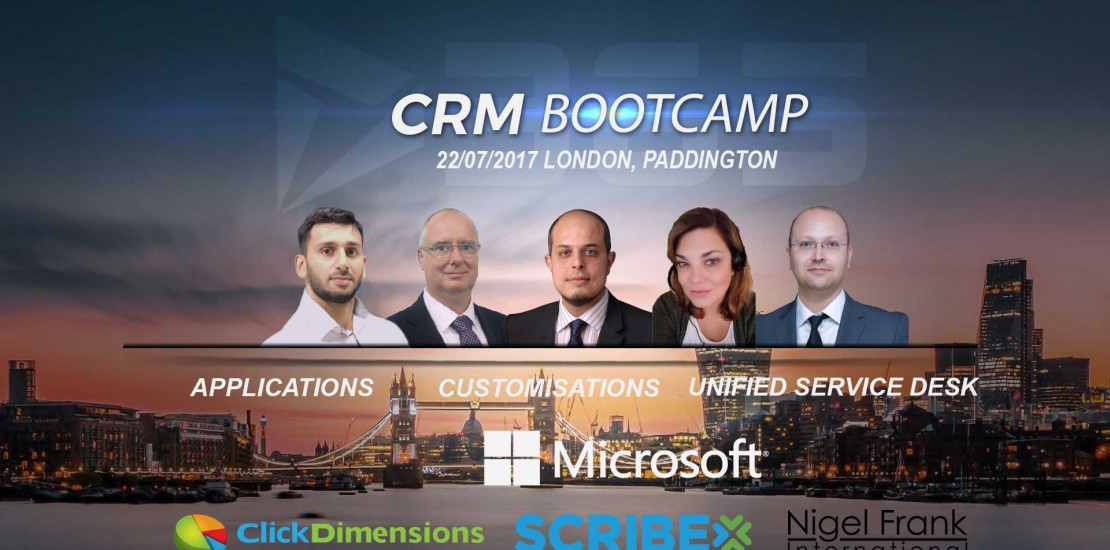 Announcing the Dynamics 365 CRM Training Bootcamp
On the 22nd June we will be delivering a Free Dynamics 365 Customisation and Configuration Course at the Microsoft Headquarters in London, Paddington. The Free Training Course is aimed at providing an opportunity to end users and students keen to learn about Microsoft Dynamics 365 in a classroom environment from industry experts.
The Dynamics 365 Bootcamp is free for the first 100 delegates who complete the registration, and is aimed at Students, Graduates, Customer, end Users as well as providing training to Microsoft Partners.
The Following 3 Dynamics 365 Training Courses will be offered on the 22nd July that delegates may choose to participate in;
Dynamics 365 Applications Instructors: Mohammed Mostafa & Janet Robb
Dynamics 365 Customisation & Configuration Instructors: Razwan Choudry & Baris Kanlica
Dynamics 365 Unified Service Desk Instructor: Neil Parkhurst
We have made this charity event free to raise funds for the The London Fire Relief Fund which we kindly ask all delegates to make a contribution http://justgiving.com/saturday-bootcamp
Preparations:
Attendees will be required to bring their own laptop and register for free 30 days trial of Dynamics 365 which you can do via the following link;
https://signup.microsoft.com/Signup?OfferId=bd569279-37f5-4f5c-99d0-425873bb9a4b&dl=DYN365_ENTERPRISE_PLAN1&Culture=en-gb&Country=gb&ali=1
Event Location:
The Bootcamp Training will be held at Microsoft UK Paddington offices, 2 Kingdom St, London W2 6BD
Please make sure you arrive before 9am registrations will complete by 9am and the training will start at 9am promptly.
If you can no longer make the training, please let us know as soon as possible by emailing Bootcamp@crmsaturday.com. Confirmed attendees who do not turn up on the day may be removed from being able to attend future events.
The CRM Bootcamp is a Free Non-Profit Technology Event Sponsored by Microsoft and Organised by the Microsoft Dynamics and CRM Community. It provides Organisations and Microsoft professionals with a unique opportunity to keep up to date with the many platform changes and come together to discuss the challenges often faced during CRM implementation and digital transformation with fellow Industry experts.