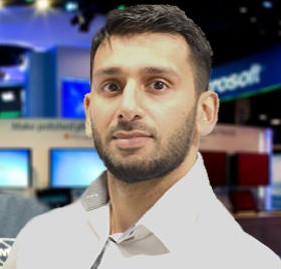 Razwan is an independent Microsoft Dynamics Solution Architect and for the past decade has focused on delivering CRM solutions for SMEs and Public Sector. He is a fully Certified Microsoft technical consultant and the author of many of many technical blogs and guides for CRM Implementation strategies.
Razwan's has been awarded the prestigious MVP award by Microsoft as well as Dynamics Community Contributor and Moderator for providing consistent help and support to the Dynamics CRM community. A regular speaker for CRM user groups and conferences as well as CRM Saturday, Razwan has a very agile and results driven attitude for going above and beyond to help organisations gain maximum value whilst cutting down silos and streamlining business operations. He has involvement in every aspect of the CRM strategy from analysis and development to implementation and project management.
His Open source Contributions to Microsoft Dynamics include;
Autonumbering Plugin Solution to guarantee unique references
XRM Toolbox Plugins for Creating Attributes and Bulk Merging Duplicate Records
Activity Rollup Plugin
Postcode Auto Territory
Duplicate View & Merge
Complex Workflow Extention
Razwan works exceptionally well with fellow developers and technical staff as well as end users and analysts, allowing your organisation and business users to adopt the skills & culture required to succeed in the digital age of productivity & customer experience. Providing training to upskill your staff to achieve a successful CRM implementation strategy, solution development and integration.
Technical Skills
Microsoft Dynamics CRM On Premise
Microsoft Dynamics CRM Online
Infrastructure / Implementation
CRM Customisation
CRM Development / XRM
CRM Training Instructor
Marketing Automation
Microsoft Dynamics CRM Online
Marketing Automation
CRM Customisation
CRM Development / XRM
Sharepoint
Background
The son of Manchester, the city that hailed the worlds first programmable computer, he graduated with a Degree in Computer Science and immediately began his career in CRM with Microsoft Gold Partners in 2006. Razwan has had the opportunity to develop the earliest Microsoft CRM Solutions as they evolved to become the powerfull solutions they are today. He has a progressively critical approach to detail ensuring the CRM solution are engineered for practical use and longevity. As well as implementing Microsoft Dynamics CRM Solutions for almost 10 Years, He has also familiar with Sage CRM, Salesforce, Act as well as ERP such as SAP , Nav and AX.
The reason for Razwan's success is due to working from the ground up and having involvement in every aspect of CRM implementation and development. This level of insight has allowed him to mature organically into the expert his is today so he is able to provide accurate insights towards successfully implementing CRM solutions.
Industry Expertise
Razwan has primarily been responsible for CRM Implementations for Public Service Institutions and Financial Services. Due to the regulatory nature of these implementations, He is often brought in to Rescue and fix the issues left behind by previous consultancies from failing crm implementations.
Razwan Completed his Bsc in Computer Science at the University of Salford, and Masters at University of Manchester.
He is Microsoft Certified Professional, and More Importantly he has Acquired his Accreditations as a Microsoft Certified Trainer
Microsoft Dynamics CRM Applications
Microsoft Dynamics CRM Customisations
Microsoft Dynamics CRM Installation & Configuration
Microsoft Dynamics CRM Online Deployments
Microsoft Dynamics CRM Development
Microsoft SQL Server
Razwan is currently completing his Azure Architecture Accreditations.