Microsoft Dynamics CRM
Microsoft CRM is a complete Customer Relationship Management system that provides a customizable platform for Sales, Marketing and Customer Service. This allows you to extend its database and functionality for very specific business demands as business requirements grow. Microsoft CRM encompasses all the best practices of customer relationship management and streamlines the way you communicate with clients, and collaborate with each other to guarantee a consistent level of service.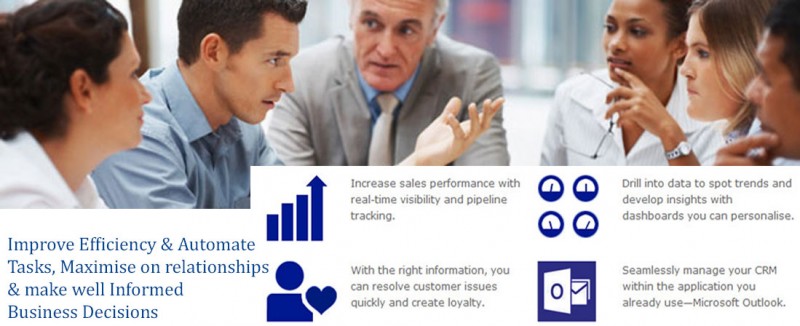 Microsoft CRM Consultants can provide your business with powerful capabilities for your business workflow automation and analytics. We can enable your sales, marketing and service staff to easily perform their tasks and share information to provide a seamless business function and customer experience.
User Experience & Efficiency
The Microsoft CRM user interface has evolved and been enriched to become far more user friendly compared to other CRM systems available on the market. The interface has been tweaked considerably to consider repetitive tasks and reducing the number of clicks required by users to perform tasks. Filtered Lists and Advanced Find allows users to quickly fine information and create query based conditions for their lists.
Boost Productivity: The more comfortable users are with their tools the more effective they are at performing their roles and responsibilities. Microsoft Dynamics CRM can work in Outlook as well as the web and mobile devices, so everyone finds it easy to use. MS CRM is designed to ensure sales staff can spend more time selling.
Outlook integration: Microsoft Outlook is already the world's leading tool for customer communication. Microsoft CRM extends the reach of Microsoft Outlook by turning it into a tool to manage customer information, allowing staff to perform all their tasks from one convenient location. Microsoft CRM Integrates with your existing systems to help break down information so you can track all your customer emails and correspondence as Activities in CRM.
Office Applications: CRM Works with MS Office applications so all your work is mainatained in the relevant context. Microsoft Dynamics CRM features an always-on connection to Excel that enables you to quickly turn customer information into dynamic snapshots or PivotChart dynamic views. Users can also seamlessly create Mail Merge documents in Microsoft Word through the Microsoft CRM interface.
Mobility: Microsoft Dynamics CRM Enhances offline communications so everybody can be productive regardless of location. Employees may be productive within the workplace as well as on the road, even if they aren't connected to a network. Information can be filtered so users receive only the data they require for their role.
Managing Your Business Operations
The beauty of Microsoft CRM is in its ability to provide your complete business relationships and processes within the scope of departmental structures and the organizations security model. Microsoft have made a major investment to ensure Dynamics CRM is the most user friendly and productivity conscience solution on the market. This is why Dynamics CRM has become the first choice for most businesses and organizations.
Business Operations & Efficiency: Workflows improve operational efficiency through streamlining of processes. The Microsoft CRM adaptive workflow engine enables a business to automate processes that can relieve your staff of mundane but vital work. Workflows are an important feature to establish your business processes and ensure users complete all customer related tasks and actions according to your business standards. A great tool to automate your business tasks and prevent system misuse and ensure a streamlined level of service. Workflows Automate time-consuming repetitive tasks and warn staff of open customer issues.
Managing Workloads
Dialogues: Make your CRM foolproof to ensure agents can systematically resolve queries and input new customer data with a user friendly dialogue.
Queues: Manage inbound workloads and requests with delegated users assigned to Queues to collectively complete new requests.
Business Intelligence: As well as the ready to use out of the box Dashboards, Dynamics CRM allows Users and Developers to create Custom Reports and Dashboards that can be shared to colleagues at regular intervals.
Security: The Microsoft CRM Security model is an excellent tool to control access to your CRM features and business data among users, Departments and Business Units within and among the organization.
Data Integration: As well as coming with a built in Data import and export tool, our Microsoft CRM Consultants provide ease of integration with other business technology systems, improving process efficiencies.
Scheduling: Microsoft Dynamics CRM simplifies service scheduling to keep customers satisfied, delivering great customer service is ensuring you never let customers down by missing a service call or appointment. Provides a centralized, all-in-one view of all customer service requests and service professional calendars.
Improving Customer Interactions
Microsoft CRM is designed to manage you customer information and help you automate tasks, establish business processes & workflows to maximize on the relationship you have with your customers and improve the level of service.
Dynamics CRM Improves account management, order taking and project delivery, lowering operational costs and improved customer responsiveness.
Complete 360 View of Customer Interactions: Improved customer service delivery with quicker response times, dialogues, and filtered levels of customer service through insights from Microsoft CRM. Improved issue resolution and access to all the customer information required to resolve cases quickly and with precision.
Increased sales productivity and ease of use of Microsoft CRM software with improved opportunity and lead tracking and routing, and a more accurate picture of its sales pipeline.
Customer service agents improved issue resolution as new processes were implemented, agents had access to all the customer information they needed to resolve cases quickly and with precision
Dynamic: Endless Potential at your fingertips
Dynamic: Microsoft CRM allows you to add extra functionality as your business requirements grow and evolve in complexity, allowing a small business to have the same power at their fingertips as any large corporation. Your solution can be made precisely to how your business operates.
XRM Entities: As well as the Standard CRM Entities to manage your businesses Sales, Marketing and Customer Service needs, Microsoft CRM provides an XRM Platform to allow your business to manage very specific business actions whether it be Events Management, HR, Projects etc.
Reporting: As well as the ready to use out of the box Dashboards, Dynamics CRM allows Users and Developers to create Custom Report Dashboards that can be shared and automatically emailed to colleagues at regular intervals.
Licensing: Microsoft Dynamics CRM is available for both On Premise and Online Cloud deployments.
Contact CRM Consultants for a free consultation if you have any further Questions